Thanks to Dr. Richard Eden of the IMO Organizing Team, we have managed to round up (hopefully all) the Philippine Teams to the 2017's International Science Olympiads. Click the image below to zoom it in or scroll down for the text version. Did we miss an olympiad? Let us know by sending an email to [email protected].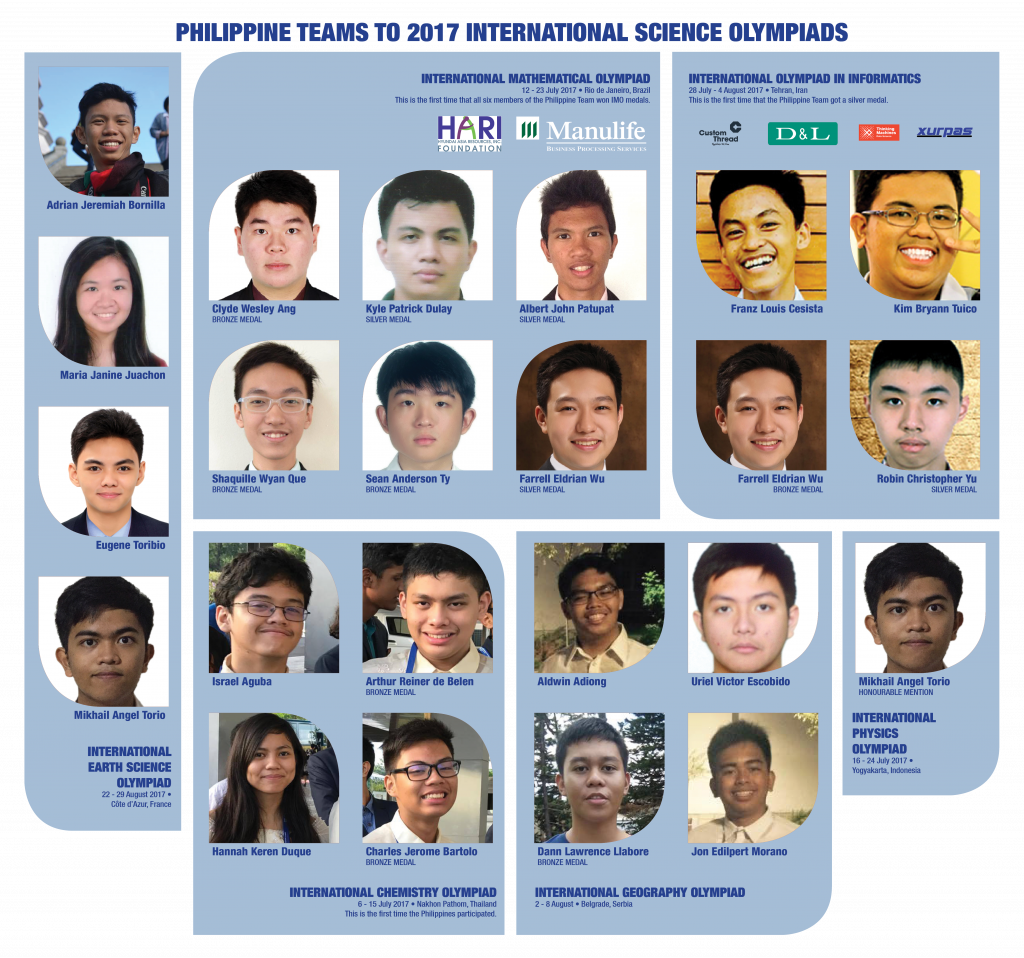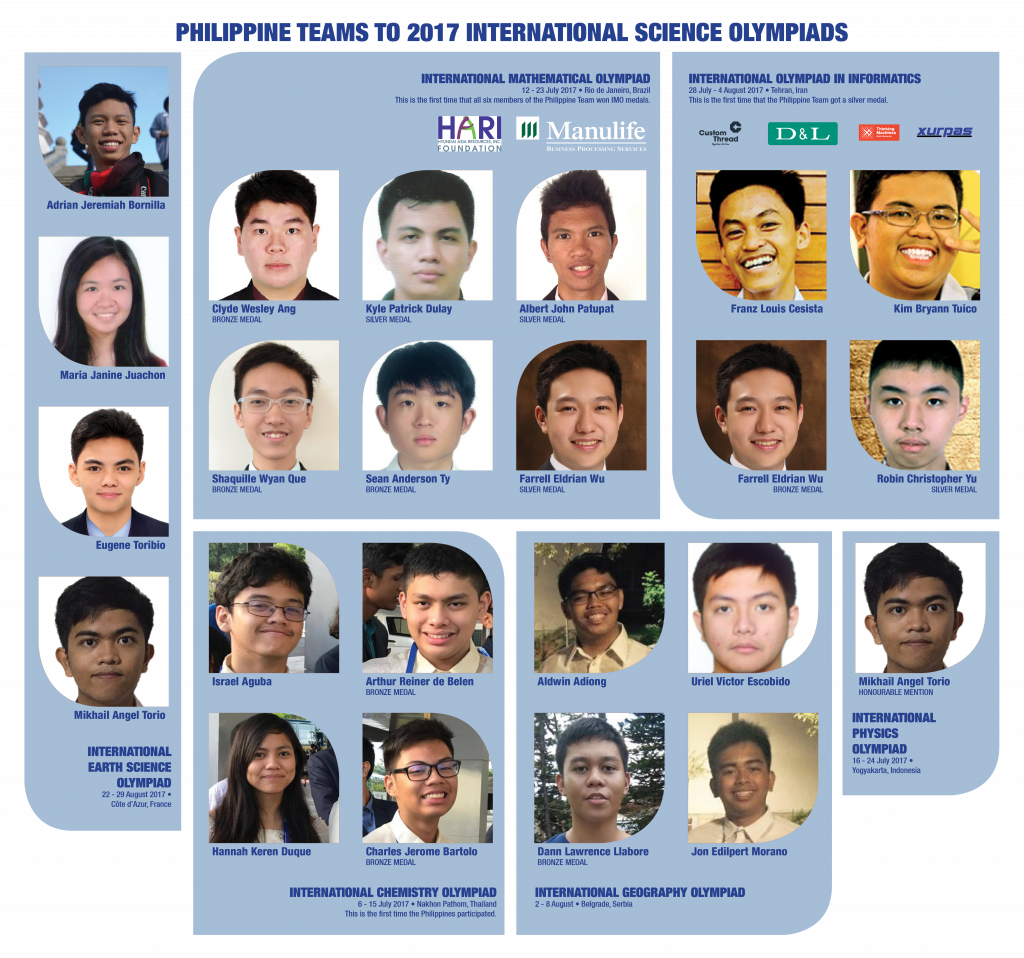 49th International Chemistry Olympiad
Date: 6 – 15 July 2017
Venue: Nakhon Pathom, THAILAND
This is the first time that the Philippines participated.
Participants:
ISRAEL AGUBA
ARTHUR REINER DE BELEN – Bronze Medal
HANNAH KEREN DUQUE
CHARLES JEROME BARTOLO – Bronze Medal
58th International Mathematical Olympiad
Date: 12 – 23 July 2017
Venue: Rio de Janeiro, BRAZIL
This is the first time that all six members of a Philippine Team won IMO medals.
Country Rank: 17th out of 111 countries
Participants:
CLYDE WESLEY ANG – Bronze Medal
KYLE PATRICK DULAY – Silver Medal
ALBERT JOHN PATUPAT – Silver Medal
SHAQUILLE WYAN QUE – Bronze Medal
SEAN ANDERSON TY – Bronze Medal
FARRELL ELDRIAN WU – Silver Medal
48th International Physics Olympiad
Date: 16 – 24 July 2017
Venue: Yogyakarta, INDONESIA
Participants:
MIKHAIL ANGEL TORIO – Honourable Mention
29th International Olympiad in Informatics
Date: 28 July 2017 – 4 August 2017
Venue: Tehran, IRAN
This is the first IOI Silver Medal for the Philippines.
Participants:
FRANZ LOUIS CESISTA
KIM BRYANN TUICO
FARRELL ELDRIAN WU – Bronze Medal
ROBIN CHRISTOPHER YU – Silver Medal
14th International Geography Olympiad
Date: 2 – 8 August 2017
Venue: Belgrade, SERBIA
Participants:
ALDWIN ADIONG
URIEL VICTOR ESCOBIDO
DANN LAWRENCE LLABORE – Bronze Medal
JON EDILPERT MORANO
11th International Earth Science Olympiad
Date: 22 – 29 August 2017
Venue: Côte d'Azur, FRANCE
Participants:
ADRIAN JEREMIAH BORNILLA
MARIA JANINE JUACHON
EUGENE TORIBIO
MIKHAIL ANGEL TORIO